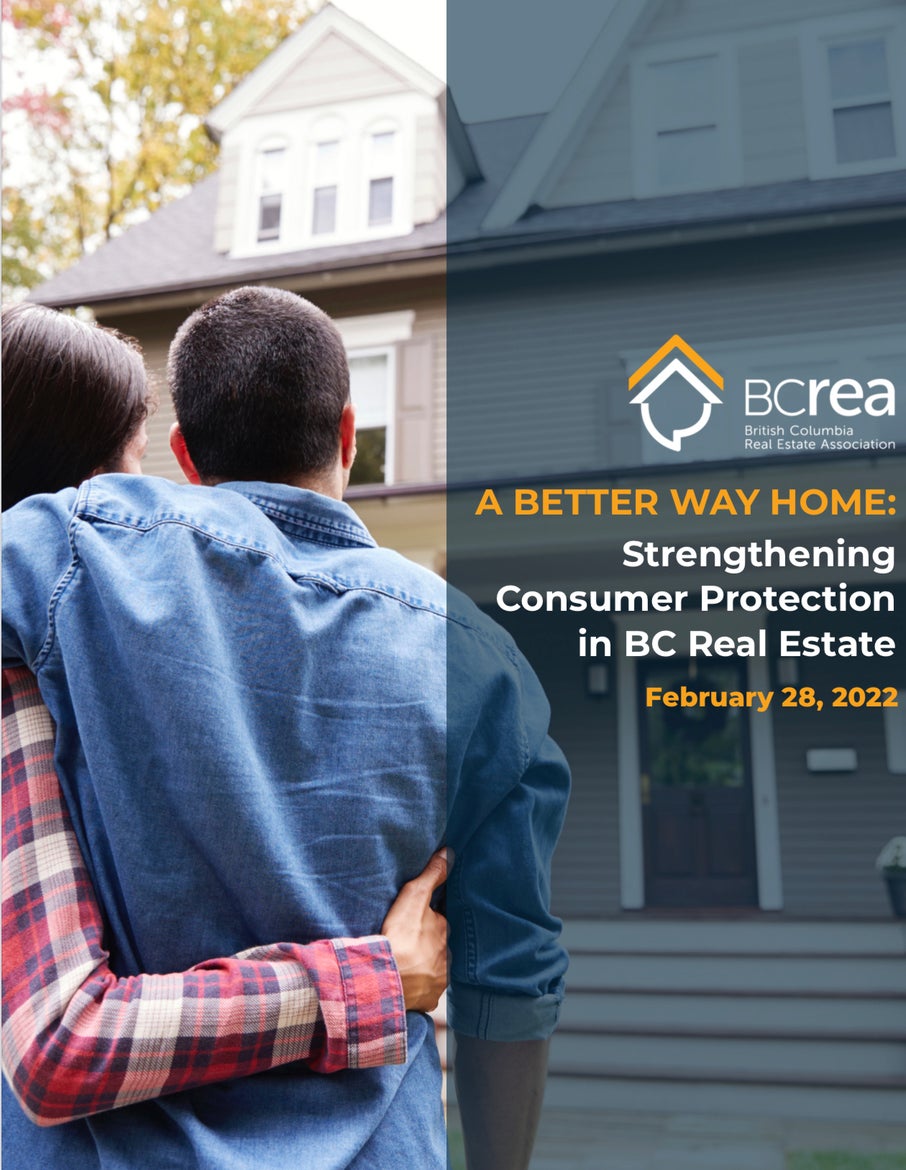 EXECUTIVE SUMMARY
As trusted advisors on the majority of real estate transactions, BC REALTORS® have an intrinsic interest in consumer protection. The BC Real Estate Association (BCREA) is committed to working with the BC Government and the BC Financial Services Authority (BCFSA) to develop robust evidence-based policy that will enhance consumer protection and confidence within the BC residential real estate market. This paper proposes evidence-based solutions to enhance consumer protection for buyers and sellers of residential property in BC. BCREA urges the BC Government and BCFSA to consider the 34 recommendations outlined in this paper. The recommendations are focused on four themes including housing supply, changes to the real estate transaction framework, enhancing consumer protections and stakeholder engagement. After investigating the nature and scope of the problem based on the available data, we explore and propose measures to be adopted by the BC Government, BCFSA and organized real estate. 
The First section of recommendations
is focused on the root cause of consumer concern, which is a mismatch between supply and demand. The province has already established a framework to address these issues through the Development Approvals Process Review and the joint federally and provincially established Expert Panel on the Future of Housing Supply and Affordability. In addition, consideration is given to working with federal and municipal governments to create a National Housing Roundtable to foster collaborative efforts to increase housing supply across the continuum. 
The Second section of recommendations
discusses changes to the real estate transaction framework. We recommend that the BC Government does not move ahead with implementing a "cooling off period" or restrictions to "blind bidding," as these measures would have ambiguous impacts on housing affordability. They have the potential to increase prices while additionally causing significant unintended consequences for both buyers and sellers. Instead of a "cooling off period," we recommend a "pre-offer period," mandating that offers cannot be presented to a seller on new listings until the listings have been posted for five business days. This would allow the buyer to conduct their due diligence while also allowing them time to consider whether the offer they want to make is in their best interest. Instead of restricting "blind bidding," the paper recommends greater transparency on the number of offers to assist buyers in making more informed decisions. Instead of mandating subjects, the paper recommends that the real estate sector explore amending BCREA's standardized legal forms for Realtors (standard forms) to balance the rights of all parties. More transparency in the real estate transaction process can be achieved by mandating that property disclosure statements and strata documents are made available at the time of listing. 
The Third recommendation
 of the paper includes recommendations on other consumer protections, including increasing licensing standards for new entrants to the profession, support for managing brokers, such as best practice guides and related resources, establishing adequate sector representation within the regulatory structure and ensuring that money laundering has no place in real estate. A Better Way Home: Strengthening Consumer Protection in BC Real Estate 13 
The Fourth recommendation
is focused on improving the foundation of effective real estate policy through fulsome stakeholder engagement. The real estate sector, comprised of the province's eight real estate boards and 24,000 Realtors, is concerned with the Ministry of Finance's November 2021 announcement outlining its intent to implement a "cooling off period" for all residential real estate transactions. While we are supportive of policy changes to strengthen consumer protection, it is our position that this policy was announced in haste with insufficient research and without due regard for the work already being undertaken by BCFSA and the sector. This lack of fulsome consultation prior to policy announcements has been a longstanding issue within provincial real estate. BCREA believes that these recommendations will enhance consumer confidence and protections within the residential real estate market while providing regulatory clarity to the 24,000 Realtors BCREA represents. We urge the provincial government and the BCFSA to consider them. This report is writen by BCREA.